Sometimes, when confronted with detailed criticism and lacking a proper reply, a MLMer would resort to sloganism, such as
"Lion Doesn't Lose Sleep Over Opinion of Sheep"
Apparently it had been adopted by Vemma followers as a general psych defense against criticism, as a substitute for "I don't care what you think. Ha!"
But what does this quote *really* mean?
Origin of the Quote
It was recently uttered by
Tywin Lannister
in "
Game of Thrones
" in the following form:
"A lion doesn't concern himself with the opinion of a sheep."
The origin of the expression seem to be lost in history. I've seen claims that it originated in Aesop's fables, in Homer's Illiad, and so on. What can be positively attributed was
American author Vernon Howard
(1912-1992), who wrote:
A truly strong person does not need the approval of others any more than a lion needs the approval of sheep.
The quote is a little on the wordy side, and let's just say
Vernon Howard's books
leans a bit toward the, uh... esoteric... With such words like "Cosmic Power", "Mental Magic", "Mystic Path", and so on...
It seems Mr. Howard merely
rephrased Andrew Carnegie
(1835-1919) who stated:
Do not look for approval except for the consciousness of doing your best.
Screen cap of The Simpsons 3e07 "Marge be NOT Proud"
where Bart put a lampshade over his head and is beating on it
with his slipper so he can't hear Marge lecturing him.
Is that you, when faced with proper criticism?
Clearly, the intent of the quote is to explain that if you do something, you should not do it because other people approve of it, you should do it because YOU want to do it.
It is NOT about criticism. It is about approval.
Therefore any attempt to use the quote to deflect criticism, i.e. "I don't want to listen to your negativity", is wrong. It's be like Bart putting a lampshade on his head and beating on it with his slipper so he can't hear Marge lecturing him.
But let's explore a little deeper...
Self-Motivation Quote Subverted to Negativity Avoidance
We had explained earlier that the quote "lion doesn't lose sleep over opinion of sheep" was originally meant one does not need outside approval to do what's right.
Thus, any attempt to use the quote in other context, such as defense against criticism, is a fundamental MISunderstanding, and leads to a dangerous mental attitude. The quote was often uttered by Vemma followers as a defense against criticism. It was worth noting that
Vemma was shut down by FTC in 2015 for operating a pyramid scheme
, and is now negotiating for a restart after a revamp of its compensation plan.
The speaker who mis-applied the quote is trying to imply that he doesn't care that the critics think, as the critics are irrelevant. However, that can NOT be true, since the speaker is trying to deflect the criticism, so he obviously *does* care what the critics think.
This sort of "words don't match the reality" is strangely reminiscent of statements that are completely detached from reality, much like
"Baghdad Bob", aka. "Comical Ali"
claiming Saddam's army is "defeating" the Imperialist invaders in the Iraq War, and American soldiers are committing suicide in face of glorious fighting sons of Iraq, and other WTF was he talking about announcements issued daily by him during the war.
But also consider the following implication: does he considers everybody as sheeple, to be lead and preyed upon? Nice attitude toward your "customers", marketing guy.
Furthermore, is the speaker really a lion... Or merely a sheep brainwashed into believing s/he is a lion, but in reality, is a judas goat, leading the sheeple around for the real lions, who don't even have to hunt any more?
Conclusion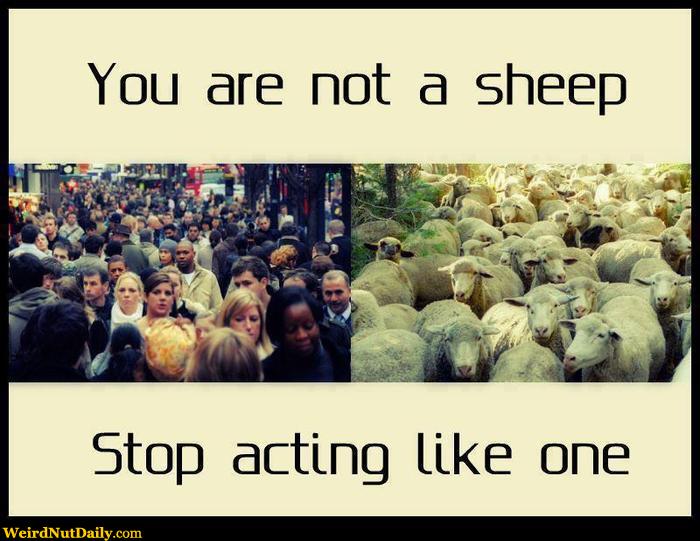 The solution is quite simple: Stop acting like sheeple.
Start thinking about what you actually say, and do they actually make sense, instead of assuming what you uttered was what you meant, when it may not be.
The quote is about you don't need APPROVAL to do what you think is best. Trying to claim that the quote means "don't care about criticism" is dangerous thinking.
Be a real lion, not a sheep brainwashed into a goat thinking its a lion.
(Revised 10/30/2015)